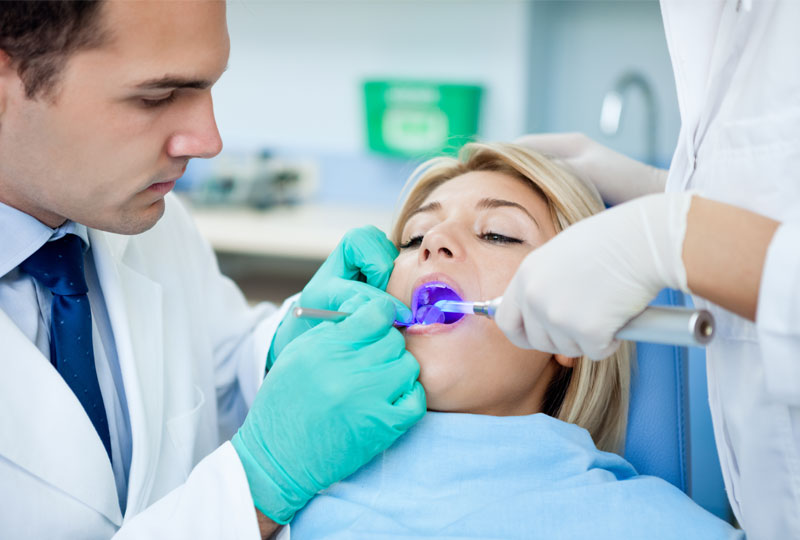 Let's face it, most of us would prefer whiter teeth. But with so many options available, which is the safest and most effective?
The simple answer is a quick trip to your dentist for professional teeth whitening is the only way to whiten your teeth safely and effectively.
You may be thinking: "you would say that because you're a dental practice".
However the answer lies in the active ingredient used to whiten your teeth. Hydrogen Peroxide is the active ingredient and under EU laws it's an offence to supply products that exceed 0.1% of Hydrogen Peroxide, which is far lower than the amount required to have any effect on the colour of your teeth.
Anything above this can only be administered by registered practitioners in controlled environments. A dentist has access to products, such as the popular Zoom Whitespeed teeth whitening system, which uses around 25% Hydrogen Peroxide and is enough to whiten your teeth on average 8-10 shades whiter.
The danger of 'tanning & whitening'
The explosion of tanning salons and even hair salons offering teeth whitening has been ruled illegal. At K2 Dental we experience many cases where the treatments have gone wrong. If you've been affected by such treatments get in touch straight away.
But why do my teeth appear whiter after whitening toothpastes or home whitening kits?
Unfortunately it's only a perceived effect as proven here: https://www.ncbi.nlm.nih.gov/pubmed/21302741. By purchasing teeth whitening products the consumer believes they have whiter teeth, when in reality nothing has changed because over the counter products do not contain enough of the active ingredient to have any effect.
Why do my teeth become yellow and dark in the first place?
Food, drink and smoking have a heavy impact on the whiteness of your teeth. Products rich in colour such as red wine, coffee and artificially coloured foods tend to stain your teeth over time. Smoking is also a culprit.
Unfortunately the stains become quite ingrained and permanent, unless of course you undertake a course of professional teeth whitening.
How to properly whiten your teeth
At K2 Dental we provide the safest and most effective methods of teeth whitening in a controlled environment. Zoom is our method of choice and it's the most common professional teeth whitening treatment today.
With amazing results in just 45 minutes, the Zoom system provides 8-10 shades difference with 73% less sensitivity over all other teeth whitening treatments.
Find to more about teeth whitening
---
Get in touch
To find out how we can help you call 020 7386 5587 or complete our enquiry form...