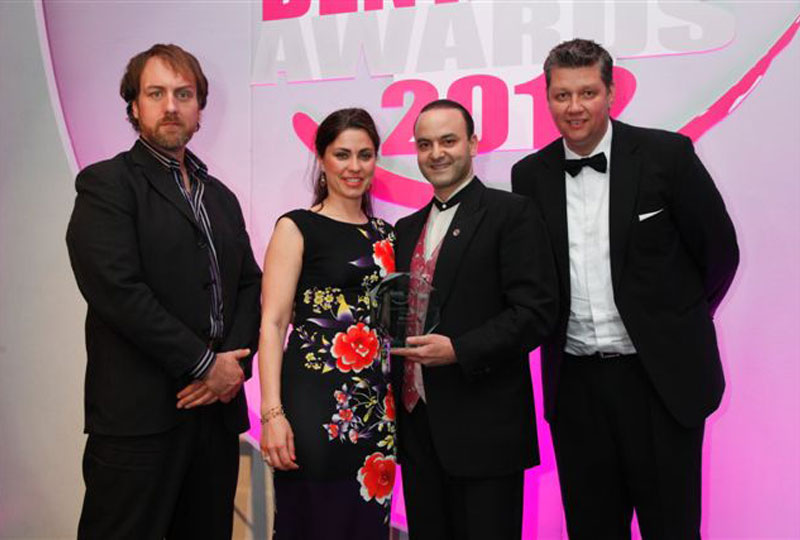 It's not everyday that we can proudly boast of our achievements – but today is a rather special day and for once we have no shame in blowing our own trumpet.
That's because it has just been announced that our very own Dr Zaki Kanaan has been voted not just winner of the "Dentist of the Year award" for the South of England but also the overall "Dentist of the Year" UK winner too. This is a stunning achievement by any standards.
The Dental Awards are the leading and most respected awards in the dental profession which were set up to recognise and celebrate excellence throughout UK dentistry.
Organised by the UK's leading dental publishers, Purple Media Solutions Ltd, (publishers of The Probe, Smile, BDNJ and The Probe) the Dental Awards are the premier awards program in the dental sector and winning or being a finalist is a tremendous accolade for any individual or dental practice. For Zaki to be voted a winner in this highly competitive field is a massive boost to everyone at K2 and a fitting acknowledgement of an outstanding dentist. It's also great news for our clients who can now boast that they have been treated by the "Dentist of the Year"!
Launched in 1999 The Dental Awards have consistently recognised the very best in UK dentistry and the winners of the 2012 awards were announced on Friday 20th April 2012 at a black-tie event held at the exclusive Lancaster London Hotel. This is always a great night for everyone associated with the dental profession and for Zaki it was a very special night to remember.
Teams and individuals from dental practices across the UK, came together to celebrate the outstanding level of clinical care and patient service they provide and to applaud the winners in each category.
The ceremony, was attended by many key opinion leaders and representatives from leading oral health companies and hosted by musical comedian Mitch Benn. Guests and finalists from across the UK enjoyed a gala dinner, champagne reception and a four-course meal culminating in the actual Awards ceremony.
Guests were also treated to a special, surprise performance by 'Faith SFX', known as one of the best beat boxers in the UK. One guest commented, "I think it's great that The Dental Awards has done something completely different this year. I've never seen anyone beat box before. It's an amazing talent and it was an excellent performance."
The 2012 event showcases the best that the UK dental profession has to offer and the lucky winners received a beautiful, specially designed glass trophy that can be displayed within the practice for all to see. Shortlisted finalists also received a certificate.
Commenting on the event, Sophie-Marie Odum, Chair of the judging panel and group editor at Purple Media Solutions, said, "As always, the event was a huge success. I would like to thank those who entered, and congratulate all the winners." The event was sponsored by The Dental Web, Dentsply, Software of Excellence, Waterpik, Wrigley, Beverly Hills Formula and Practice Plan.
From everyone at K2 our congratulations go to Dr Zaki Kanaan on this incredible achievement and well deserved recognition for his outstanding contribution to dentistry.
---
Get in touch
To find out how we can help you call 020 7386 5587 or complete our enquiry form...