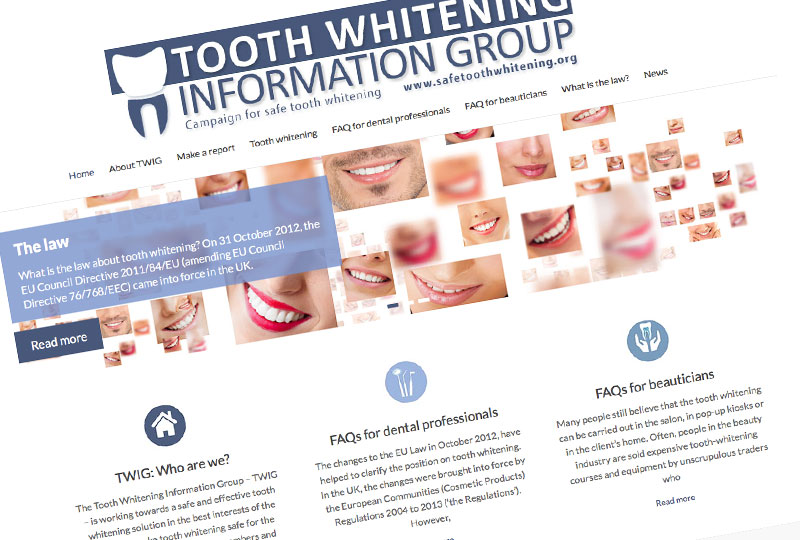 A new website to protect the public from illegal and harmful tooth whitening launches today.
Under the guidance of the Tooth Whitening Information Group, the website – www.safetoothwhitening.org – aims to educate the public on how to achieve tooth whitening in a safe and legal way. The site will also act as a resource for members of the public and allow for the reporting of illegal tooth whitening being carried out by beauticians, shopping centre kiosks and other non-dental professionals. In addition illegal sale of tooth whitening products containing more than 0.1 per cent peroxide to anyone other than a dental professional or direct to the public can be reported. In a recent case a prosecution of an internet company selling peroxide based products at up to 30 times the permitted limited resulted in an 18 month jail sentence.
The website also has informative and easy to understand information on all aspects of tooth whitening for members of the public, including a quick report form if you have a concern about a treatment you have received.
The group, formed of a number of leading dental bodies and suppliers of tooth whitening materials, has been concerned about the continued advertising and promotion of illegal tooth whitening treatments and public safety since 31 October 2012, when the EU Council Directive announced that tooth whitening products containing or releasing between 0.1 and six per cent hydrogen peroxide can now only be sold to a registered dental professional with the first application to be carried out under a dentist's supervision in the practice.
Dr Nigel Carter OBE, Chief Executive of the British Dental Health Foundation, said: "Since the ruling was announced it is clear many people offering tooth whitening are still unaware of the rules and are continuing to practice illegally. The public are being misled and placed at risk of permanent damage to their teeth.
"Tooth whitening is a dental procedure. This has recently been confirmed by the High Court following action by the General Dental Council against a beautician carrying out tooth whitening. Following this clarification of the law the website will help to inform, educate and reassure the public about all things tooth whitening. There's a downloadable buyer's guide that gives you a good idea of what to look out for if you're considering having the treatment, and crucially what you must avoid."
To find out more about safe tooth whitening, to report an issue of illegal practice or supply, problems with a treatment you have received or for further information on the law surrounding tooth whitening, please visit www.safetoothwhitening.org.
---
Get in touch
To find out how we can help you call 020 7386 5587 or complete our enquiry form...